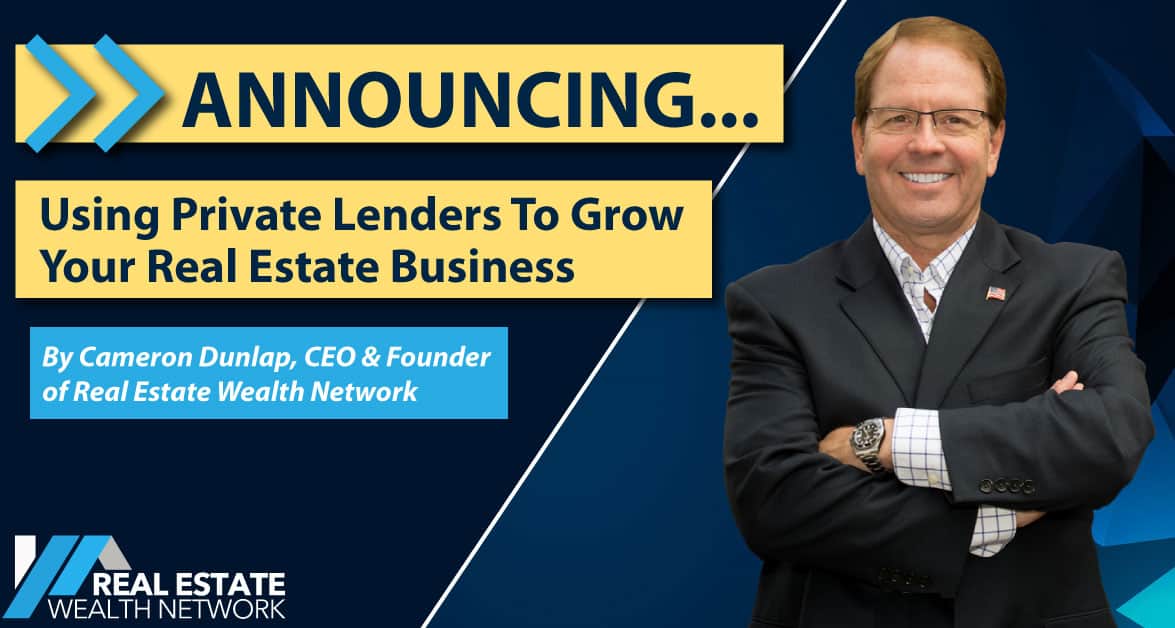 Introducing a powerful new training that gives you a step-by-step plan to leverage private lenders for real estate deals…
…and gain access to 100s of MILLIONS to fund your real estate empire!
March 2021 (eRelease) – Real Estate Wealth Network is very excited to announce the release of our ground-breaking new training called, "Using Private Lenders to Grow Your Real Estate Investing Business".
NOW AVAILABLE for a low, one-time cost – this powerful new training was developed by self-made entrepreneur and real estate investing expert, Cameron Dunlap, to help real estate investors acquire more deals without using their own money.
What You'll Learn Inside the Using Private Lenders to Grow Your Real Estate Investing Business Program:
How to get the necessary funding you need for all types of investment property deals (without dealing with banks, needing credit checks or miles of red tape)


How to leverage private lenders for real estate deals to grow your business fast and build long-term wealth


How to find private money lenders that are dying to lend you money (I'll show you 5 proven ways to tap into them immediately)


​What you need to DO and SAY so that you can easily build a strong and long-lasting relationship with your private lenders


​How to find deals that are PERFECT for a private money lender and present it in a way that has them saying "YES" when you offer them the ability to get involved


How to structure deals with private lenders (long-term, short terms, equity deals and more)


Gain complete confidence in the "numbers" involved in private money loans (determine the right loan to value, interest rates, term length and fees)


Understanding the documentation necessary for every deal and why you should ALWAYS use an attorney to protect yourself and your lenders


How to become the private lender yourself and build wealth fast


Avoid these massive mistakes so that you can protect yourself and avoid wasting unnecessary time, money and energy.


How to hold or flip "seller carry back mortgages" for quick cash or long-term wealth accumulation (I'll even show you how to find these deals with the click of a few buttons)
You'll also get these exclusive bonuses:
Bonus #1 – SEC Compliance Manual
Bonus #2 – Private Lender Conversation Guide
Bonus #3 – Private Lender LIVE Meeting Kit
Bonus #4 – The Seller Carry Back Machine
Review of Using Private Lenders to Grow Your Real Estate Investing Business
Here's a short video review of Using Private Lenders and how it works…
To learn more about the Using Private Lenders program, click here!
Using Private Lenders To Grow Your Real Estate Business: Is It Worth It?
Without a doubt, this training gives investors the decisive advantage they need to leverage private lenders in any real estate market across the country. If you're investing in real estate and you want to learn how to use unlimited funds to scale and grow your real estate portfolio, then this is hands down the best source available.
Cameron's software solutions and investor trainings are very unique to this industry and show a tremendous amount of thought and care for what his fellow real estate investors and entrepreneurs are going through because he is one! His trainings and systems have an astounding track record and have been tested and proven to work time and time again by not only himself but by the thousands of students he's helped over the years.
If you're interested in getting started, struggling to see results in your business or want to significantly increase the number of deals you do, then we cannot recommend the Using Private Lenders To Grow Your Real Estate Investing Business program enough. This is truly a game-changer.
Interested in learning more about this program? Click here now!
A Message From The CEO:
Hey, Cam Dunlap here.
Clearly, you're here because you're looking to grow your real estate business and, in particular, do that by using private lenders.
Your timing could not be better, my friend.
The bottom line is, there is more liquidity in chasing yield or a return right now than ever before. There are also fewer options than ever before, especially if you're at all risk-averse.
That makes the timing perfect for this!
What you'll learn in this program, first and foremost, is the anatomy of a private lender. Who are they?
We'll examine the differences and I'll give you my advice on where to use and who to use. I know you'll find this very valuable and it'll be a huge eye-opener if you're not familiar with the field of availability.
We'll also look at some specific examples of private lenders I've worked with over the years and how I found them (what we did, their relationship with me and how that relationship evolved.)
I'll show you, in great detail, a couple of different examples where a relationship with a private lender literally changed the borrower's life. Trust me, when you're looking for private lenders for real estate deals and you find them and start doing business with them, there will be one who takes a particular interest in you and your success and wants to come along for the ride.
They will literally change your life.
Expect that. I'm going to talk all about it and give you the finer details.
We'll talk about the specifics of what private lenders are looking for: a yield or a return on their investment (and they're looking for that with relative safety!)
In this world right now, investing is more like speculating if you want any kind of real return or big return. You have to go beyond just taking risks, you have to become a speculator. And there are an awful lot of folks who have absolutely no interest in that because of the timing in their life or because of their beliefs or both.
The bottom line is, what you have to offer potential private lenders is exactly what they're looking for, but don't know exists. So, when you share this with potential private lenders, you're going to share something with them that they see as life-changing.
Take that a step further, I'm going to suggest that private lenders, especially ones who don't know anything about private lending in real estate, are in greater need of you than you are of them.
How's that for a little paradigm shift?
Just hearing that ought to give you a lot of confidence in terms of communicating with them because, if they need you more than you need them, you could duff the whole conversation, put your foot in your mouth and they're still going to be so ecstatic about what you offer. Think about that!
This is the perfect time to be looking for private lenders for real estate deals because they need you so badly. You've heard it on the news that there is an off-the-chart amount of liquidity chasing yield with nowhere to go. We solve that problem.
We'll talk about the kind of deals that are perfect for them and look specifically at the type of lender and the type of deal so that you can match the lender to the deal and make everybody happy. Because at the end of the day, my credo is it's win-win or it's no deal.
We'll talk about how to find private lenders for real estate deals. I'll give you some dos and do-nots and talk about the SEC. One of the bonuses with this training is our SEC compliance guide, which is a big deal just understanding where that whole thing sits.
We'll talk about structuring deals with private real estate lenders: the mechanics, how much interest to pay, negotiating the term, etc. We'll go through some actual case studies of deals that I've done myself, including rehab deals, buy-and-hold deals, seller financing deals and more.
Then, we'll look at turning the table…what it's like when you're the private lender.
Now you might say, "Well, wait a minute. That doesn't apply to me because I'm not in a position to do that. I'm here right now because I NEED private lenders, not because I want to be one."
I get it… But it's a great goal to become a private lender, which is what I've done over the years.
I've been in the business since 1993. When I started out, I was the borrower in every case. Today, all these years later, I still borrow from private lenders, but I am a private lender on certain types of deals. I think it's important for you to take the long view, look at the horizon and see yourself in that position.
When you understand what it's like to be at both sides of the table (as the borrower, which presumably you would be now, and as the lender, which you might be later, or maybe now) you become a much better person to do business with. You understand what they're thinking and what's important to them, so it's a win-win. It'll make you a better borrower and it'll make you a better lender. And that's important for all of us to learn!
So buckle up, this is going to be one heck of a training. (You can click here to learn more and get started with the Using Private Lenders program today.)
There are all kinds of examples of where I was the borrower, where I was the lender, and then case studies so that you really understand it all. It's not just a data dump. It's really putting what you're learning into practical use.
Whether you're new to the business or experienced with any level, there is value in this program for you. One nugget… one good takeaway… one a-ha, could make you a thousand times your investment in this program. This program is incredibly inexpensive for the value you're receiving and I feel strongly that it really could change your entire investing career…if not your entire life.
That's how proud I am of this. That's how thorough I was when I put it together.
I look forward to seeing you join the program and becoming part of the family.
Take care!
Regards,
Founder and CEO of The Real Estate Wealth Network
Get started with Using Private Lenders To Grow Your Real Estate Investing Business TODAY!