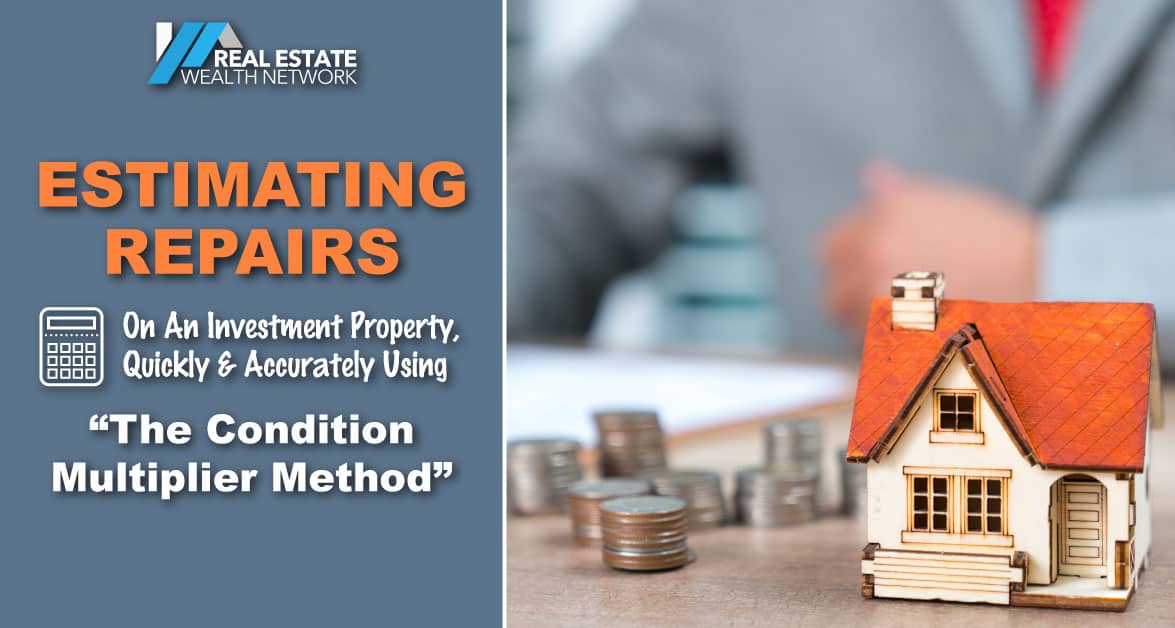 Estimating repairs is a subject that sometimes paralyzes many investors – and it shouldn't!
While it certainly is an important part of the deal-making process, estimating repairs to determine the best possible offer on your deals will be a snap once you get the hang of it.
To help you, today, we're going to break down and follow the methodology that Cam Dunlap presents at his training events because let me tell you… it works!
One of the keys to this simple but powerful methodology is what we call the "Condition Multiplier Method" when estimating repairs which categorizes the houses we're interested in buying into one of 3 distinct categories: Bad, Really Bad, and Awful.
First, let's break down each category to help you avoid "analysis paralysis" and determine the condition of any property you come across. Keep in mind, this is not a step that you can skip because you need a repair estimate in order to make a "firm" offer to your seller.
Bonus: We've attached a helpful repair estimate sheet at the end of this post that you can take with you or provide to your bird dog when they visit your houses under contract to assess repairs! It's yours 100% free!
Estimating Repairs…That's Just What It Is!
As wholesalers, keep in mind that we are only trying to get close on our repair estimate.
WE are not taking title on the property…
WE are not the party actually doing the repairs…
The cash buyer is the party who needs to calculate his/her repairs to the penny because they are taking title and doing the actual repairs.
You, as the wholesaler, have a little more "play" in your numbers.
You DO want to get the repair estimate close, however, because this will help you to maintain your credibility with your cash buyer and thereby, ensure future deals with them.
The cash buyer may agree or disagree with your repair estimates and ARV numbers, so make sure you have some justification for your calculations.
Once in a while, I have students ask me if they should ask or hire a contractor for estimating repairs on a property. I discourage this for a few reasons:
The first is the time it would take for you to do this would likely cost you the deal (someone like me who can quickly estimate repairs will come in and get the deal before you can get back to the seller).
Second, if the contractor is inclined to charge for the estimate, you would be adding an unnecessary expense to your business.
And Thirdly, it is likely very hard to find a contractor who could actually do this with the market as busy as it is since the pandemic.
Follow the Condition Multiplier method and you'll move forward with confidence!
The Bad…The Really Bad…And The Awful
Please note: your square footage multiplier may be different than the one I am presenting here. For instance, the cost for repairs in California is going to be much higher than they are in Western Pennsylvania.
Also, we are generally referring to the typical 3 bedroom/1 or 2 bathroom (first-time homebuyer) house that is 1100 – 1500 square feet.
So, here they are… The Condition Multiplier categories for estimating repairs are as follows:
Download this property repair estimator cheat sheet to help out!
Bad: $20.00/square foot
The Bad condition category includes: Kitchen update, bathroom update, paint, flooring, light and plumbing fixtures, minor plumbing repairs, minor electrical repairs, and landscaping cleanup.

If we take the 1500 square feet times the condition multiplier of $20.00 our repair estimate would be = $30,000.
Really Bad: $30.00/square foot
The Really Bad condition category includes: (All of the above PLUS) Electrical Panel work, HVAC work, Roof work, Landscaping including tree work, Drywall repair.
If we take 1500 square feet times the condition multiplier of $30.00 our repair estimate would be = $45,000.
Awful: $40.00/square foot
The Awful condition category includes: (All of the above in both categories PLUS) Windows, Siding, Foundation issues, re-wiring, re-plumbing, and major landscaping including tree work. (Tree work is surprisingly very expensive)

If we take 1500 square feet times the condition multiplier of $40.00 our repairs estimate would be $60,000.
And, voila!
See? Estimating repairs isn't as scary as you thought.
Remember that the condition multiplier is adjustable, and you should plan to adjust it when necessary.
Once you have the repair numbers, you can feel confident about making your offer to the seller and determining the sales price for your cash buyer. And keep this in mind… With the help of a bird dog or anyone that can go look at the property for you, you don't ever have to go to the house yourself. Now, properties in other cities and towns that you may want to invest in, besides where you live, are within your reach!
Once you have the property under contract, it's game time! You can begin marketing to your cash buyer list over Facebook, on Craigslist.com or by calling or sending direct mail to active cash buyers using the Cash Buyer Data Feed.
Your Take
What's your experience with estimating repairs? What methods have you used in the past and how did they work for you? Let us know in the comments!
Good luck and Happy Investing!
Angela Ostroff | Mentor – Real Estate Wealth Network
P.S. You can download the Property Repair Estimate sheet by clicking download below…

A Message From Cam Dunlap, CEO and founder of Real Estate Wealth Network: At Real Estate Wealth Network we do things differently. We're a network of experienced real estate investing professionals with a passion for helping people succeed. I am proud to have fostered this community of amazing contributors who've become part of the REWN family.

This blog post was contributed by one of our master mentors with an abundance of investing experience. Angela started out just like you and so she knows how you feel, what challenges to expect and is a master at teaching others how to push past the obstacles that you may be currently facing.