Pre-foreclosures can be tricky, and it's important to know how to best use pre-foreclosure lists and – more importantly – how to contact and communicate with the owners if you want to successfully invest in pre-foreclosures.
You've probably heard of pre-foreclosures and know what a pre-foreclosure is, but let's quickly refresh our memories… after all, it's certainly a great strategy to have in your investing arsenal.
A house typically becomes a pre-foreclosure when the owner is more than 90 days late on their mortgage payments. At this point, the lender will start the foreclosure process with a notice of default. To avoid losing their house, the owner/borrower would have to correct the arrears of their default by getting payments current again.
That's a tough spot to be in…
A homeowner that realizes they are only one small step away from foreclosure is one of the most motivated sellers that you can find. They're looking for an answer and YOU may be able to help them!
I've dealt with pre-foreclosures for years now, and I can tell you that sellers of these types of properties are typically not in a good place in life (or good mood) – for many reasons.
Owners of pre-foreclosed properties can be mentally and emotionally drained (if you will), and typically they don't respond well to the fact that you know that they're in a financial jam.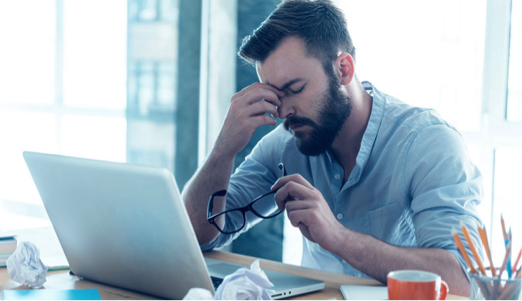 Finding Pre-foreclosure Leads…
You can find pre-foreclosure listings a variety of ways, including:
Public Records:

One of the first and most obvious choices, is to go to your county recorder's office. Here, you can find a list of pre-foreclosures for free, but it may take some digging to learn the FULL details on each property you're interested in.

Real Estate Agents:

Realtors access these types of properties through the MLS and can do much of the legwork for you but, the properties may be higher priced to compensate for the agent's commission.

Online Listings:

Online sites, such as Zillow, offer an extensive amount of properties with property details and usually require the least legwork. Be careful though, the information on these sites has a tendency to be outdated.
All of these options have their pros and cons and, one of the major cons is that they are readily available to a wide range of consumers…meaning MORE competition and LESS likely to be your best deal.
That's why I've created something very special [NOW AVAILABLE] – a system that allows you to laser-target pre-listed leads (including pre-foreclosures, vacant houses and more!) so that you are the first person talking to these highly motivated sellers and, in turn, can negotiate a much better deal. 

If doing more deals and talking to REAL motivated sellers is what you're looking for, then click here now to learn more!!
Handle With Care…
Much like I teach when dealing with leads from my Vacant House Data Feed, which provides users access to verified vacant property leads across the nation (if you haven't already tried it, you can here – risk free!) You NEVER want to say the word "vacant" to a vacant homeowner. If they bring it up, fine, but don't you bring it up!
It makes them feel "watched" or "spied" on and that's never a great feeling to give someone when you're starting a relationship that you want to end with a home sale, right?
So, what do you do with the info on a pre-foreclosure list – well, you handle it with care. What I mean is, the info on it is homeowners who are likely about to lose their house – so, you need to think about how you approach the people on pre-foreclosure lists. You do not want to tick them off or upset them.
You actually have a few options…
You can work with the owner directly – and tread very, very… very carefully and yes, you walk on eggshells during that initial conversation. Be sure to check your state laws about doing this. Maryland, for example forbids us from talking to a homeowner who's in pre-foreclosure regardless of whether you know it in advance of contacting them or if you discover it after making contact. There we must use one of the following options.
Enlist an experienced attorney to be your go-between or middleman.
Enlist a Realtor to be your go-between.
Take the Generic Approach
If you decide to reach out to the owner directly…
You can't cut to the chase when it comes to owners of pre-foreclosures. You have to gently work into that first introduction, and an effective way to do so is to take the generic approach.
In short, play dumb – just a little.
Try using a more generic style of direct mail marketing like this: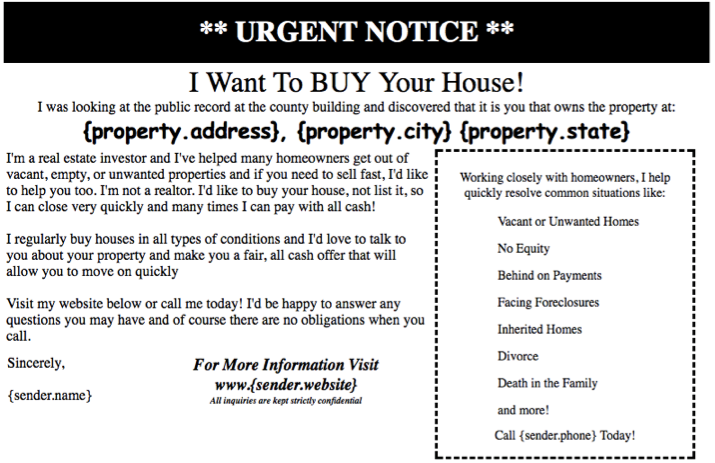 Notice that it doesn't come straight out and say "I see your house is in Pre-foreclosure"? Instead it lists "Facing Foreclosure" as one of many issues you deal with.
Pro Tip: I use iFlip Real Estate, an automated real estate investing software, to generate marketing pieces just like the one above and more, with the click of a button. If you haven't already tried it out, click here for a risk-free 30-day trial!
Next…
Establish rapport, which I know you know how to do, and let the conversation take a natural turn toward the topic of foreclosure. Let the owner share his or her financial distress with you first – and you act somewhat surprised.
Remember not to lay it on too thick or the owner will see right through your strategy.
Save the Drama for Someone Else
If you prefer to take the drama and emotion out of the deal…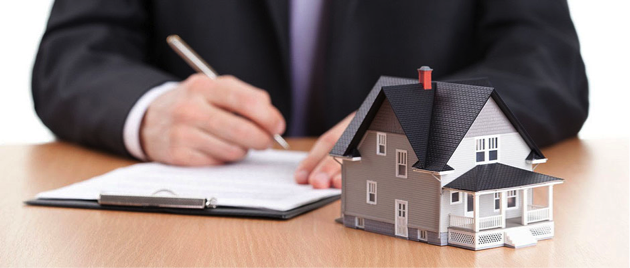 Consider going through an attorney. They aren't emotionally involved, but they are looking for solutions to help clients. So offer one up.
Attorneys of clients facing foreclosures want investors who can offer fast financial relief – so be that guy or gal.
Final Important Thought
So, the bottom line is, you've got two choices for dealing with pre-foreclosures….
Either approach the owner delicately or go through an attorney to avoid emotional obstacles.
Then, you'll decide if the numbers make sense for you to take the deed and make up the arrearage, which only happens if there is equity, or if it should go the short sale route, which is really your only option if there is no equity in the property.
Important Note: Remember, certain states may actually dictate which way you have to go. Some states have strict rules about pre-foreclosures. Maryland, for example, is one of them. Know your state laws or hire an attorney who does.
Also, when you're buying pre-foreclosures, don't EVER lease the house back to the homeowner. They have to go – period, or walk away from the deal. In my experience regulatory trouble typically comes when the investor agrees to let the homeowner stay – so don't.
So, do your homework, know your state regulations when it comes to pre-foreclosures, then choose the approach that makes sense… one that you can take all the way to the bank.
Leave a Comment
Talk to me about your success (or failures) with pre-foreclosures below. I personally monitor comments and would love to provide you some feedback.
Regards,
Cameron Dunlap