iFlip Will Help You...

Automate Your Marketing Efforts
Send a personal message without the personal effort on all the right channels. Reach your customers at exactly the right moment with emails, calls, direct mail, and social media... on autopilot
Yes, I'll Try For $1.95

Reach The Right People With The Right Messaging
Send the right message at the right time. Use postcards, standard mailers, and even yellow letters to supercharge your lead generation. It takes a simple click of a button. Scripts and templates are a click away so you can start mailing right now.
Yes, I'll Try For $1.95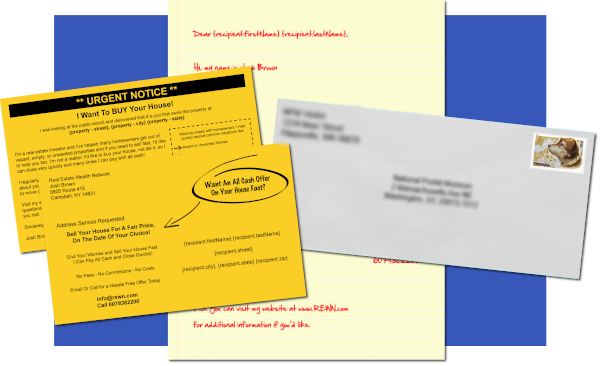 Make Multiple Offers All At Once
You'll have the ability to Robo-send offers. With a single click of your mouse, the Offer Blaster will send out letters of intent on single or hundreds of properties for you all at once! iFlip will keep everything organized in one place. You will have your property details, repair cost, market value, and comparables all in one place.
Yes, I'll Try For $1.95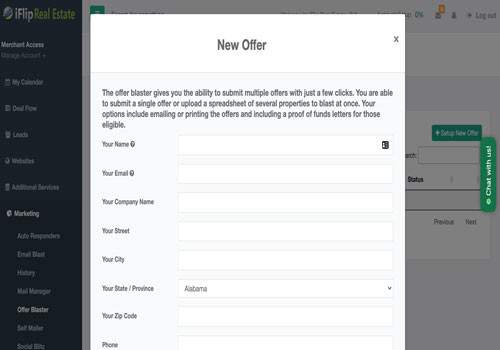 Create Websites You're Proud Of
Effortlessly create lead generating websites that do all the heavy lifting.

Websites That Work Hard For You
Choose from several professionally designed websites proven to convert prospects into leads. The drag-and-drop editor makes it easy for anyone to make beautiful & functional websites. No tech experience needed.
Yes, I'll Try For $1.95

Publish Unlimited Websites For Any Market You Want To Serve
Want to micro-target suburbs near you? Or... how about an underserved city hundreds of miles away? Go for it! We've got your back. Hosting and SEO optimization is all included.
Yes, I'll Try For $1.95

Search Engine Optimization That Drives More Local Market Leads
When someone types "sell my home fast" in Google...What do they see? When your site is complete, they'll see your site appear regularly in search rankings.
Yes, I'll Try For $1.95
See How It All Comes Together
When You Try iFlip, You'll Also Get...
Keep Pushing Forward
iFlip Has Your Back.

Motivated Seller Lead Generation - Covered!

Steady Stream of Cash Buyers - Covered!

Unlimited Lead Gen Websites - Covered!

Complete Deal Automation - Covered!

Two Tickets to the Real Estate Wealth Summit - Covered!
What Investors Are Saying About Real Estate Wealth Network
I like how you set up the system, iFlip 2.0, where I can do ALL of the editing myself. It is designed such that even technically-challenged people, such as myself, can tailor the contents relatively easily. Well done!

THANK YOU, I am so very excited to finally find a promising program that has EXCELLENT customer service, support and response! I have been attempting Real Estate now for almost 3 years and this is the first FLAWLESS program. I am sure that my income will skyrocket and change my life forever. THANKS CAMERON DUNLAP ,CHERYL, ALL STAFF MEMBERS AND EVERYONE INVOLVED. May GOD continue to bless us.

I listened to Cameron Dunlap's Goal Setting Workshop. He is always so positive, realistic, and relates to real-life situations where all of us can understand and relate to. An amazing person! Thanks for sharing.

I just wanted to let you know, I'm iFlip for life! After less than a week, I've found your support to be the best. I've used four or five other program that charge much more but delivered much less. The thing that distinguishes iFlip from the rest is the fact it does what it says and beyond that when you have a problem that requires support, you get it in a matter of minutes or worst case scenario in an hour or two that day. Hey your problem gets solved. Tip of the hat to you! I'm fired up. Bring on the 2.0!! P.S. I ran my Bird Dog Ad on Craiglist.org and Backpage.com and in less than 24 hours I have six Bird Dogs signed up.

"Fresh off Cameron Dunlap's Chicago Vacant House and Foreclosure Summit, I have flipped!! I thought the original iFlip was the bee's knees, but I have flipped over the new iFlip 2.0! I am so excited to use this cutting-edge technology that allows us to systematize and track all of our leads. The extraordinary value brought to us at Cam's seminar was without question the highest of quality I've experienced – and I've experienced many others!! Phenomenal, inspiring, professional, knowledgeable and fun, Cameron and his staff and associates are extraordinary, and I am honored to be associated with such a high-integrity group of individuals. I am so excited to have integrated iFlip 2.0 into my life, and even more important, the Cameron Dunlap Power Team. I say, Quit Tripping and Start iFlipping!!!" Sincerely –

I just wanted to let you know how well the iFlip Real Estate system is working for me. Currently I have 119 bird dogs here in Omaha alone and more properties coming in than we can handle. It is truly amazing how well this iFlip Real Estate system works if you work the system. I've done two assignments so far ($5k/ea.) and am scheduled for 3 more in the next two weeks. My goal is to do 6 to 8 per month. Thank again! Respectfully,
It's only $1.95. No contract + 14-day trial
As Seen On
Investors all over the world find iFlip essential to their wholesaling business.
iFlip is packed with over 30 powerful tools & features to make the deal process stress-free.
Let's Do This!
You are one step away from integrating a powerful tool that will change how you do business, forever.
Try For $1.95