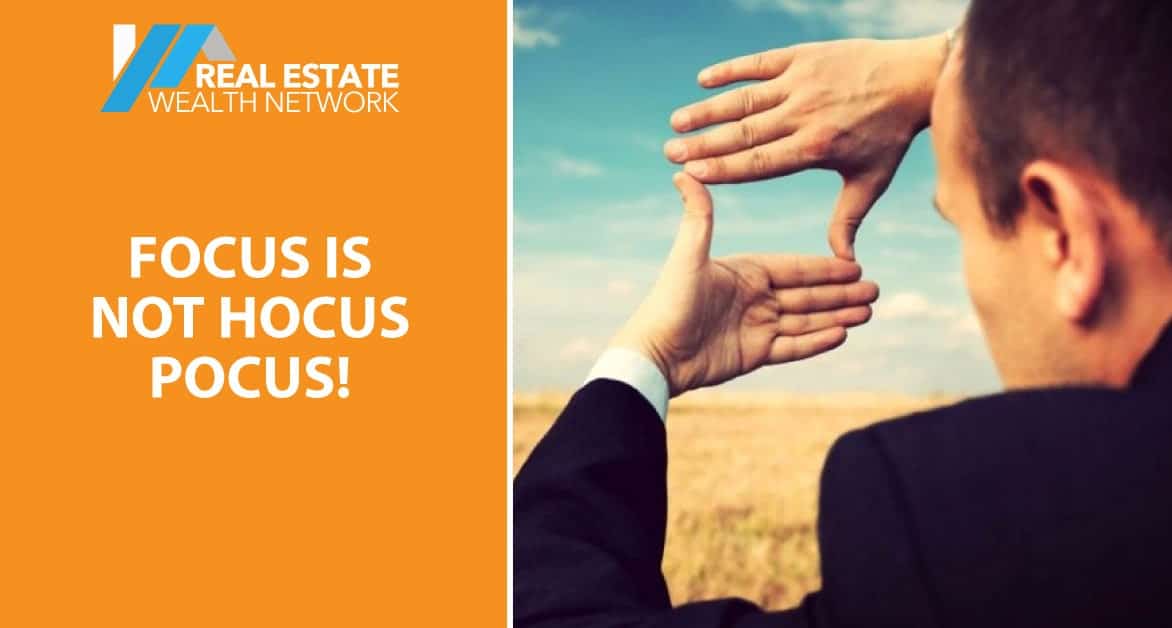 Do you know how important it is for you to be focused if you want to be successful? Most people don't. Most people are incapable of real focus and then wonder why they aren't successful at anything they attempt in business.
If you have trouble keeping your head down and focusing on your business and you are aware of it, you're halfway to the solution. If you were not aware of the importance, my hope is that this article will provide that awareness. Either way, my hope is that this article will help you build a bigger more successful business.
What's Keeping You From Real Focus?
If you're an entrepreneur, at heart or in practice, you probably have the same issue I have which is that I cannot get through a day without seeing a very interesting business opportunity. You know, where you're going about your day and spot a "problem" that you could solve or a process you could make easier and think… "Now there's a business opportunity." After all, the best businesses are started by identifying a problem or inefficiency and solving or optimizing it.
I'm not sure if seeing at least one business opportunity per day is a curse or a blessing…
…but I do know for sure that, if you let it distract you from your core business or project or competency, it's likely to cost you more than it will ever make you.
The fact is, the way to become successful is to work hard at something… one thing… for (usually) a long period of time and stay focused and become the best at it. Naturally, that process will involve delegation (something entrepreneurs generally stink at) and will involve growth in order to reach your goals. Then, and only then, is it safe to pick your head up and look at other opportunities.
Most people can't keep their heads down. They're constantly looking at and chasing other opportunities and either think they can do the "old thing" and "new thing" simultaneously, or worse, up and walk away from the "old thing" perhaps right when they were on the cusp of true success.
Know anyone like that? Know anyone like that REALLY WELL?!
Maybe it's boredom or maybe it's A.D.D. or maybe it's the need for instant gratification, but if you don't remain focused, with your head down, shutting out the distractions, you are unlikely to ever be truly successful at anything.
Some Call This The Shiny Object Syndrome!
This is where the shiny object catches your eye and you're off like a shot in that direction, abandoning what you were just doing.
Most folks who get caught in this trap are more than ½ way to being successful at what they were doing and so turning back or starting something new is that much more of a setback. It's like being ¾ of the way to your destination – and perhaps not knowing it – and then turning back because you're frustrated by the fact that you're not there yet.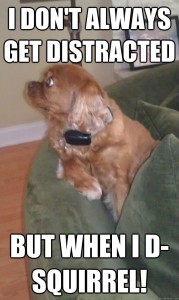 Another analogy would be the dog that's chasing a car that sees a rabbit and starts chasing it until it sees a squirrel and starts chasing it and so on. It's a gigantic waste of energy, is extremely frustrating and… leaves you feeling like a failure because, well… you are!
It's time to focus – at whatever you're doing. Doing something over and over again, the process of trial and error, and truly becoming successful takes time, energy, money and perhaps most importantly… it takes focus. It needs your undivided attention.
I see a lack of focus with Real Estate Investors all the time. They go from one niche strategy program to the next and to the next and to the next, never buckling down and focusing on any of them. This is a waste of time and money for sure.
If you go to Home Depot and buy a shovel, it's not any good to you till you actually go and dig a hole with it. In fact, if it were in the garage leaning against the wall, you could stand there pointing at it and argue that it doesn't work. You'd be right because it doesn't work – until you pick it up and use it!
Something I hear all the time from want-to-be Real Estate Investors is… "That program doesn't work". Then I think, really?! It doesn't work, or you didn't work it? The shovel doesn't work either, right?
I have suffered from the shiny object syndrome myself and I know from experience that it's better to get to work with the tools you already have than it is to keep pursuing other opportunities or acquiring other tools.
Start The Process. Do The Doing! Get To Work!!
I feel fortunate to have figured this out at a relatively young age and as such have much to show for it and to be proud of.
You may decide you don't like the process, or that you're not good at it, but it takes time to come to those conclusions in a meaningful way. Then if that's the case, of course, move on, but because you were focused and put real effort into it, you know you've made an informed decision and… you likely will have built value that can be sold or bartered.
I know people who have spent most of their lives jumping from one thing, to the next and to the next, and who are now getting older and have little or nothing to show for the unfocused, disjointed effort they put in over all of those years. Had they focused on a core competency, they'd have built big businesses.
Focus…Will It Make You Or Break You?
Focus is a "make you or break you" issue that is not often talked about but is insanely important.
Sometimes I'm asked… "You own multiple successful businesses, how did you make that happen when focus is so important. How could you have remained focused and yet build multiple businesses? Aren't multiple businesses an example of suffering from the shiny object syndrome?"
They're good questions! They're ones I've given a lot of thought to and have talked to people about to get their observations and I've come up with a few answers.
One thing I've come to discover is that I am a huge action taker – an implementation MONSTER. I do a lot less talking and thinking about what I'm going to do and more about what I am doing at that moment to generate revenue and build the business. I don't dilly dally when I've made a decision – I get to work on it RIGHT THEN.
Another is that while my businesses are different, they are all "verticals" of each other. In other words, they all stem from one core business and that is Real Estate Investing. I am an investor first and everything else stems from that by reaching into a vertical market.
Then, I have come to learn to keep my head down and get really good at doing what I'm working on, then delegate most of it so I can manage the process, without having to actually do it, and watch it continue to grow with less and less of my personal involvement. Then and ONLY then will I pick my head up and look around – always immediately seeing a vertical opportunity.
I also have a little trick I use to scratch the shiny object itch when I get it, while my head is down. What I do is buy a domain or 2 that I know I'll need when and if I decide to pursue the idea. That way I know I have the right domain in my "domain bank" and I can feel relieved having scratched the itch and get right BACK TO WORK! This has been a real saving grace for me because like most entrepreneurs, I too suffer from some degree of O.C.D. and A.D.D. The only downside is that I have about 350 domains!!
To deal with all those domains, I take about an hour a year to go through my account and turn off the "auto-renew" button on the ones I now know I'm not ever going to pursue. On those, I have simply lost the itch or have come to my senses.
Combining these strategies has allowed me to grow multiple businesses. Along the way, I have also surrounded myself with very smart, motivated and loyal people who keep the focus and allow me to spend more time at high altitude with my eye on the horizon, so I can see the challenges and opportunities before they are at our doorstep.
Your Take
So, I ask you… are you completely focused on your business? Do you agree it deserves your focus? Do you see where picking your head up has cost you? Are you willing to put your head down, focus and take massive action?
If your answer to each of those 4 questions is yes, you are on your way to success!
Focus, work hard NOW, be patient and I will see you at the top!!
Cameron Dunlap
P.S. I'd love to hear your comments below.