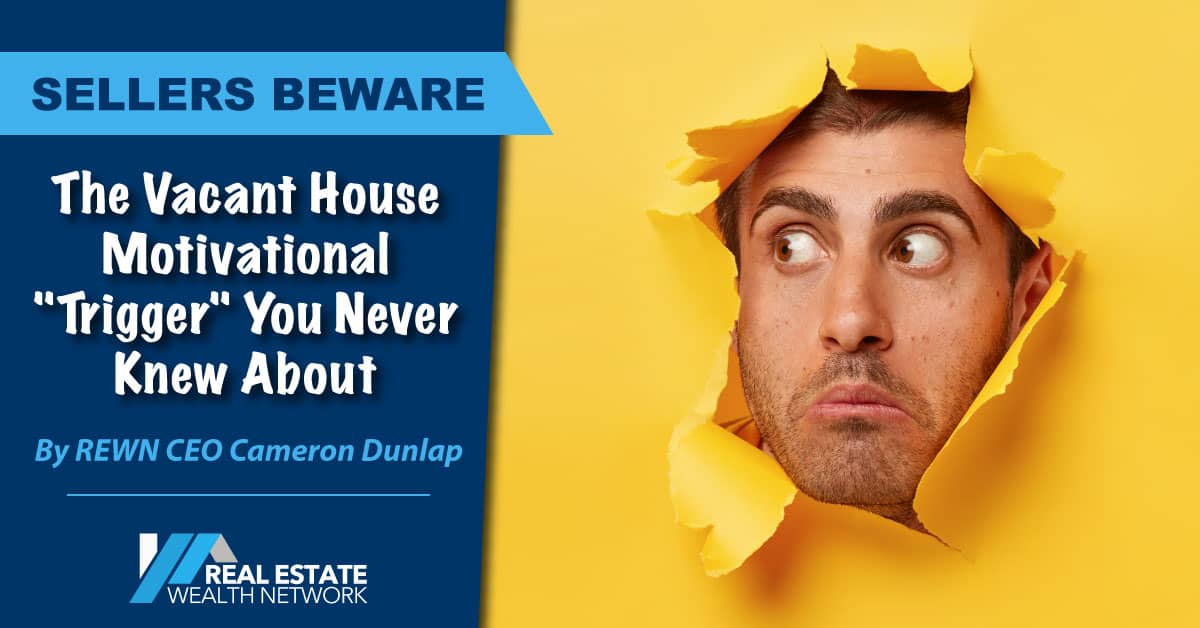 I want to share something with you about a vacant house motivational trigger that I was recently reminded of… something that's now so ingrained in my investing process that I sometimes forget to call it out.
So, I was having a conversation with some mentorship students during our coaching session. Of course, we were talking about vacant house deals. I suddenly realized that something that comes second nature to me after all my years doing this… doesn't necessarily mean its second nature for other investors.
What is it?
A Very Powerful Vacant House Motivational Trigger
It's something that most sellers of vacant properties are completely unaware of, and in most cases, immediately heightens their level of motivation over the property.
Again, I've been abundantly aware of this for many years, but most newbie investors and vacant house owners aren't — it's about insurance.
Check this out…
When a house is sitting empty, depending on the policy, there's an excellent chance that even though insurance is being paid for — if there were a loss while it's vacant, the insurance company could point to language in the policy and deny a claim because of that vacancy.
Ouch, right?
Look, don't think that insurance companies aren't always looking for a way to deny your claim. They are. And the bigger the claim, the bigger the army of people they'll put on it.
I'll say it again: They're always looking to deny your claim. Sad but true. Frustrating and still true.
Here's how it works:
If you have a homeowner's policy, like an owner-occupied policy, there's language in there that permits a period of vacancy of almost nothing. Nada. Zilch. Zero. Goose egg.


If you have a landlord policy, it may permit up to 30 days, which is pretty typical since there may be a vacancy between tenants.


If you're doing rehabs, you probably have an insurance policy and also a supplemental "Builder's Risk" policy to cover the construction period in that period of vacancy as a supplemental insurance product.
Vacant Houses Are My Jam
See, many sellers/owners of vacant houses are already motivated for whatever their reason. A vacant house is a clear sign of motivation of some sort…
That's exactly why I love vacant house deals and why I created powerful resources like the Vacant House Data Feed — it's like having a crystal ball to define off-market properties that your competitors can't. You can try it out for $1 here.
So, as you work with vacant house sellers, it's important that you work this insurance policy 'gotcha' into the conversation. They probably don't know about it… that even though they're paying for insurance, the property may not actually be covered because it's vacant. Be sure to work it in gently though. I learned a long time ago that beating them over the head with it can alienate them and potentially cost you the deal.
So what does that get you?
Well, Two Things…
If the seller is unaware of it, you'll certainly help them better understand their situation. Good job, you.

There's an excellent chance you'll take their motivation level from wherever it is to something much higher, which is a good thing for you in terms of doing vacant houses deals.
See, when I learned about this loophole ages ago, I immediately added it as a part of my negotiation process when I'm working with any vacant house seller… same for my mentorship students.
And I wanted you to know about it so that YOU can push the motivational trigger button for doing more vacant house deals yourself. 🙂
Your Take
Were you aware of this vacant house motivational trigger? What are your experiences with it? Let me know in the comments!
Regards,
Cam Dunlap