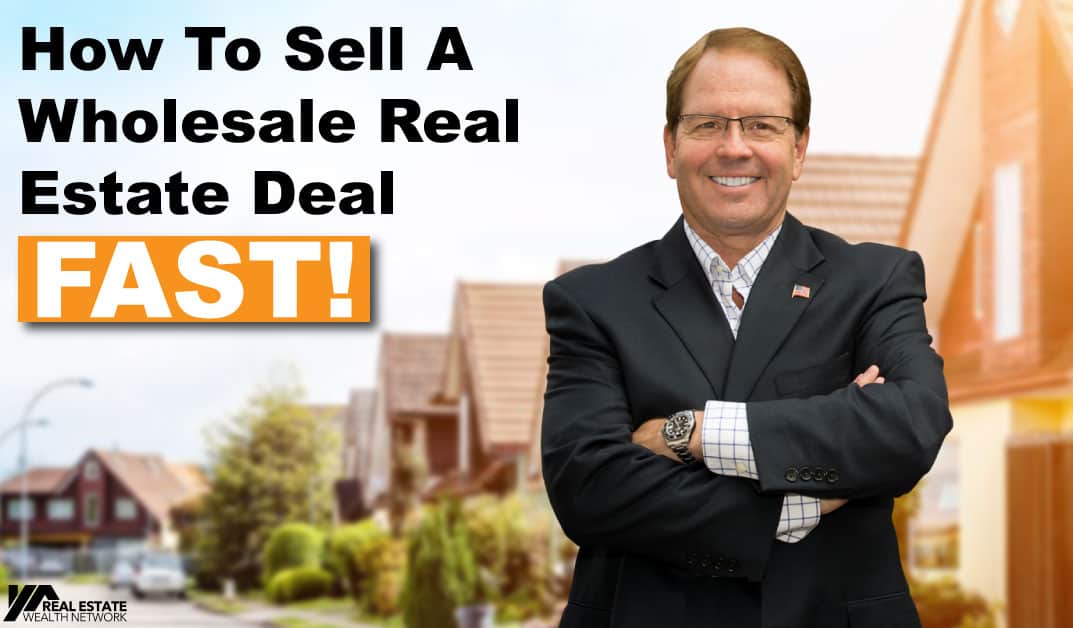 Learn my 15 step process for selling wholesale real estate FAST! Discover secrets to finding cash buyers, negotiating good deals & what contract to use for quick cash!
You are so close!
If you are reading this, there is a good probability that you have a property under contract and now you need to know how to sell a house fast.
-OR-
You are in the process of investing in real estate and you can just about taste a deal coming.
Either way, you are in the right place to become a successful wholesaler!
Wholesaling is one of my favorite investment strategies (especially with distressed properties) and is an excellent way to start your career in the industry.
In this guide, I am going to show you everything you need to know, from A to Z on what to do from the moment you ink the deal with your motivated seller until the moment you are cashing your profit check…all without leaving your desk!
The Key to Selling Your Wholesale Deal Fast, is Getting a GOOD Deal!
Good deals are always the key to being successful at Real Estate investing. Especially when you are wholesaling.
Assuming that you contracted the property well below market value, selling it will be relatively easy because you have the ability to make your wholesale profit and… leave enough additional profit on the table for your buyer!
Imagine yourself in your cash buyer's shoes…
To run their rehabbing business, a typical day looks like this…
They raise money, manage contractors, drive by houses, inspect houses, estimate repairs, estimate ARV, find retail buyers (when they sell), manage a database, answer emails, take phone calls from inspectors, attorneys, brokers, appraisers, city officials, and all of the other Real Estate players… and just to top it off…
They Have to Find GOOD Deals
This is where you come in!
This is an important part of the value you bring to the table, as a wholesaler.
This is why cash buyers love you!
All of the deal-making pieces that require their time when they buy the property cash are alleviated by you.
If you want to be the top wholesaler in your market with access to hungry buyers so you can spend more time finding hot deals, then follow these steps to selling a house now…
How to Wholesale Real Estate Fast in 15 Simple Steps – Without Leaving Your Desk
Create a flyer to highlight the reasons why this is a good deal.

Create a PDF version of the flyer and include it as an attachment to an autoresponder email using

iFlip

so that you can build your email list of investors in your market.

Connect that autoresponder email to your buyers website using

iFlip

so that your buyers will get instant access to the flyer.

Place ads on Craigslist in the "real estate for sale" section: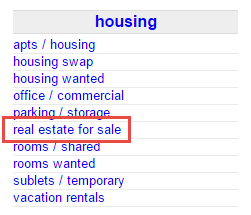 Use an image like the one below or hand-write a text ad to use in Craigslist so you can attract potential buyers to your buyers' website.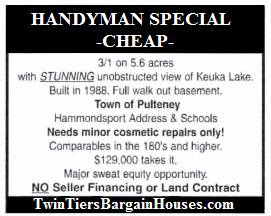 Send potential buyers to your buyers' website (via the url in your ad)
Let technology (like iFlip) send the PDF to the buyer with all the details automatically
Program/setup your autoresponder to automatically build rapport, sift & sort, and warm up buyers for future deals
Place a "FSBO" sign in the yard of the subject property (with permission from the seller of course)
Put out yellow road signs that say "Handyman Special – Cheap – Cash (123) – 456 – 7890."
Look on Google, Craigslist, your local paper, road signs, and anywhere else you can find your competitors advertising. Call them and let them know that you are looking to sell your house for cash and/or ask if they would like to get on your email list to be notified of your next deal.
Add all good leads to your buyer database so that you can call/email them back on your next deal.
Place "Pay Per Click" ads online to send local investors to your buyer's website (Google & Facebook)
Attend your local Real Estate Investors Association meetings to pass out flyers and let them know that you are looking to sell a house for cash.
Send a postcard to cash buyers in your market
All of these steps are important… especially when you are brand new to Real Estate Investing… but, they are technical and complicated unless you have a system like iFlip that makes it easy and does most of the work for you. However, if you want to keep it simple and sell your property quickly to a cash house buyer then step #15 is one of the most important (and least technical) steps for you to focus on.
As a wholesaler, it is important to find ways to save time… working with known, cash buyers is going to save you a lot of time and hassle.
Plus, working with cash buyers allows you to avoid "tire-kickers" or "posers" who claim to be Real Estate investors but will end up wasting your time and promising to close on your deals, but back out at the last minute. This will NOT make your day.
Where to Find CASH Buyers
Here are two proven ways to find cash buyers for your deals…
You can go down to your local courthouse and scour public records for recent cash real estate transactions. I don't love this method because it requires you to leave your desk and it is so time consuming it can become a part-time job because every time a cash transaction occurs, you'll have to find it and record it in your database for it to be up-to-date.



Pro Tip: If you choose to go this route, be sure to find an assistant that you can easily train on the process so that you don't have to be the person doing it.


 

Use the

Cash Buyer Data Feed

. Because of the challenges (time, effort, energy) with finding cash buyers via public record, I created a software program that allows any investor to automate the process of finding known cash buyers right from their desk.
Every month, my team aggregates the data from all over the country. We weed out all of the irrelevant information and keep only the most relevant and profitable data that helps us, as wholesalers who want to sell property fast. With the Cash Buyer Data Feed you can instantly access all of the cash buyers in your market, and everywhere in the USA.
With access to this highly qualified buyers list you can make offers with confidence knowing that you have cash buyers you can sell your deals to.
Click here to run a quick search (completely FREE) to see how many cash buyers are hiding in your market!
What to Say to Potential Real Estate Cash Buyers
You will save a lot of time and energy if you get good at screening out "un-qualified" buyers.
Some buyers say they have cash, but what they really mean is, they have an asset that they need to sell in order to get that cash.
Some buyers will say they have done a bunch of deals, when in reality, they bought their first home a couple decades ago, they bought their move-up home a decade ago, and they just closed on a new home.
Yet some are TRUE cash buyers who are buying and selling property every month.
It is important that you don't waste your time… yet, it is also important to get "off on the right foot" with the real cash buyers for houses.
I have created a script so you know exactly what to say and I include it for free inside the Cash Buyer Data Feed.
How to Let Your Cash Buyer Inspect the Interior of The Property
Remember… not all buyers are equal. Some will waste your time, while others are serious deal-makers. As soon as you have identified that a buyer is a deal-maker, you can tell them how to get in.
The best way is to have a lockbox on the property with a key. You would get the key from the seller and then head to your local hardware store and buy your own lock box.
Usually, a seller is OK with giving you the key. Naturally, they are hesitant to do this for fear of the unknown, but when you remind them that the house needs work and that there is nothing to steal… they will often give you the key. This is especially true when they are not local.
If you were not able to get a key, then try this…
Let the seller know that you tend to get a half dozen or more buyers, contractors, and partners who will want to see the inside. Usually they will give you the key once they hear this because they "have had it" with the property, and don't want to waste any more time.
Once you get the lockbox up, you can give the code to your qualified buyers…
If your buyer provides you with "proof of funds" or they have done a deal with you before… the risk of anything happening is very small.
If this is a new person that you think would make a good buyer, but you are a little hesitant… you may want to actually meet them at the property.
What if the Seller Won't Give you a Key?
If you were not able to get the key, you can either have the seller show the property to you and each buyer on separate showings, or…
To save everyone a little time and to create an "auction effect", you could schedule a mini-open house. This is a window of time that works for you and the seller which you think potential buyers will be able to fit in their schedules. It could be 1 hour… it could be 4 hours… it could be on a weekday, or a weekend… whatever works.
Try to make the window of time as narrow as possible… when buyers run into each other, they see that there is demand for the property, and they are more likely to sign the deal right then and there.
If the property is bank-owned, this process is easier. The lockbox is already on the house; you just have to get the code from the Real Estate Agent. It's generally easier to get access when there's an agent involved because they are used to the process of showing properties and aren't emotionally attached to the house.  They also understand that you're saving them time and trouble.
What Contract to Use and When…
When you are planning to do a "double closing" between sellers and buyers, I recommend using the local Realtor Board Contract. This is what all of the local brokers, attorneys, and title companies understand and expect.
When you are doing a "single close" AKA "assignment" deal, all you need to do is assign your contract to your buyer. The buyer will want to review your deal with the seller and if acceptable, they will essentially agree to buy your contract.  Just be sure that you're using an assignable contract!  See my article on buying from private sellers here.
You will get paid at closing. Your name (or company name) will be entered into the HUD1 as a buyer's line item.
Here is an example what an assignment agreement looks like: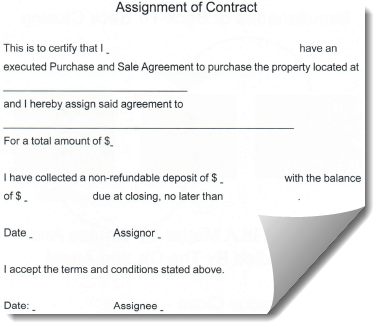 You can create something similar to this in your favorite text editor on your computer.
What to Do After You Sign the Contract with the Buyer
As soon as you find a buyer to sell the contract to, you need to let your closing agent know.
Call him/her up and ask where to send the contract.
When you are doing a double close, you will have 2 contracts… 1 with the seller, and a different contract with the buyer. In the case of a single close/assignment deal you will already have the contract with the seller and it should already be in the hands of the closing agent. Now, you'll have an assignment agreement with your buyer, which needs to go to the closing agent too. It's effectively your contract to sell. Either way, send your new agreement with your buyer to your closing agent as soon as possible.
Your closing agent will handle all of the paperwork, schedule the closing, and work with the title company to make sure that the property can transfer with a "marketable title".
Your assignment agreement has to be "paid off" in order for the property to close.
All that is left for you to do is wait for the closing and then you can…
Cash Your Paycheck
This step-by-step list showed you how to sell a wholesale real estate deal quickly, however…
If you would like a complete guide on flipping a house with no money, credit, or experience (in 30 days or less), check out my blog post on flipping houses with no money.
Leave a comment below… I'd love to get your feedback and I always respond personally.
Regards,
Cameron Dunlap