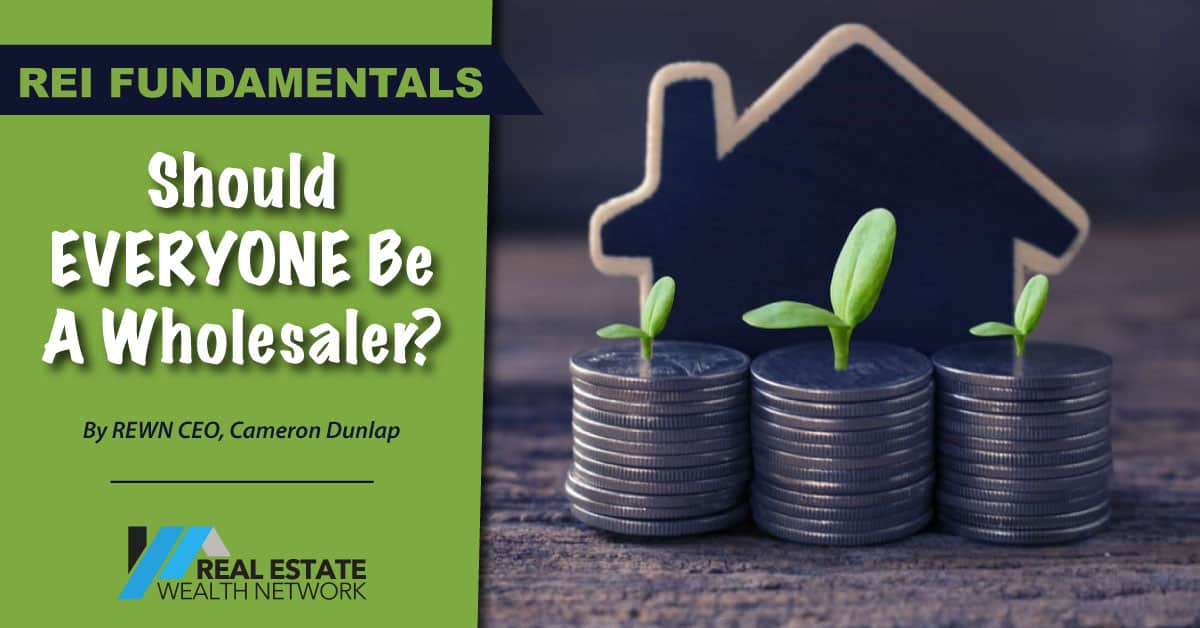 Today, I've got some really potent advice and thoughts on the fundamentals of real estate investing.
You see, without this fundamental and getting your mind wrapped around this idea I'm about to share, you'll likely fall flat short when you set out to accomplish your investing goals.
I feel very strongly about this idea and hope you'll embrace it the same way I have — which does involve thinking a little differently.
Let's Get To It…
So, one of the things people ask me when they discover that I'm involved in such a breadth of real estate investing endeavors is why I focus so consistently on the fundamentals of wholesaling.
It's a great question and here's why…
Wholesaling is the best place to start if you're new in the business, because there's the least amount of:
risk
money required
everything required, actually
And!
It's the perfect add-on strategy if you're already in the business.
On top of that… this is probably the most important thing — when you become good at wholesaling houses, it means you're good at practicing the fundamentals of real estate investing consistently, and that will be a necessary part of your entire career in real estate: practicing the basics consistently.
There's No Better Investing Strategy To Cut Your Teeth On Than Wholesaling
If you're new… you develop a great work ethic.. and a great set of habits. That's the ultimate launching pad.
If you're already in the business doing rehabs or buy-&-holds, it's the perfect add-on strategy, because it helps you to practice the fundamentals of real estate investing consistently every day.
Then, when you find a great house, you can easily decide whether you're going to wholesale it, rehab it or hold it as a rental. Call it cherry picking.
And for you newbies, as you develop into an investor starting with wholesaling, and stick with it, you'll then begin to move into other exit strategies… which wholesaling will facilitate beautifully, because you're practicing the basics consistently.
Basics like:
Generating motivated seller leads
Sending out direct mail campaigns
Calling sellers and developing relationships with them
Making offers every day
Negotiating with motivated sellers
Creating win-win scenarios – deal making
Negotiating and working with buyers
Developing relationships with buyers
Delegating and team building
Those are the Basis of Every Successful Real Estate Investing Business.
So, as you're ready to expand into other exit strategies, you can take a property that you found by practicing the basics and consider your exit strategy options… Maybe the property doesn't need a ton of difficult repairs and you want to give rehabbing a go.
And just like that, you've added another exit strategy to your repertoire AND you've just advanced your career as a real estate investor.
Then you might decide sometime after that to buy-&-hold some properties for long-term generational wealth. The legacy.
If the market rents are good and the numbers make sense, go for it. If not, just wholesale or rehab it. You have options.
The Bottom Line
I believe that every good, successful real estate investor at the core is a good wholesaler.
If you're interested in learning how to become a successful wholesaler, join me for my upcoming Real Estate Wealth Summit where we'll dive deep into the process of virtual wholesaling from A to Z. Reserve your free spot here – these always fill up fast, so you'll need to hurry.
The interesting thing for me was that I didn't even know what wholesaling was until I was in the business for a couple of years, but I've definitely been a wholesaler ever since. I practice the basics, and I choose which exit strategy is best — square peg in a square hole, round peg in a round hole.
So, jump on the wholesaling train and remember to always, always, ALWAYS practice the basics.
Your Take On Wholesaling and the Fundamentals of Real Estate Investing
What are your thoughts and experiences with Wholesaling? Is this an investing strategy you have or would like to incorporate into your business? Let me know in the comments!
Regards,
Cam Dunlap