If you are looking for one single strategy to use to buy bargain priced investment houses, this is it!
Maybe you have "tried everything" and haven't cashed your first check. Maybe you are a dealmaker looking for the best way to find motivated sellers so you can scale your business. Or, maybe you are down to your last nickel and you are hoping and praying for a solution that will jumpstart your investing business once and for all.
In this article, I am going to distill 2 decades of experience into 1 simple and easy-to-understand deal finding strategy.
Real Estate is a cyclical environment. What works yesterday, may not work today. It's not your fault if you haven't had the success you know you are capable of… you just need to know this one thing…
Start with THE best way to find motivated sellers now
There are hundreds of ways that you can find motivated sellers, but only 1 is the best. And after decades of trial and error, I can say with absolute certainty that the answer is…
Vacant Houses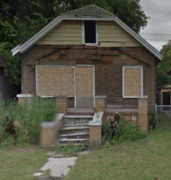 Owners of vacant houses are motivated sellers multiplied by ten.
When a house is vacant, you know for sure that the home owner is at least paying property taxes on it (motivation). You also know that the environment is beating the house up as we speak (motivation). This means that they are responsible for making repairs on the house. (motivation)
They also are most likely paying utilities, insurance and maintenance. (motivation)
And guess what? The insurance that they are paying is usually wrong. Most vacant house owners don't realize that a regular homeowners policy doesn't cover a vacant house and that they really need a "builders risk" policy. This policy covers the owner in case something goes wrong that a "builder" tends to face. When they are not covered correctly and something goes wrong… guess how much of the bill the insurance company will pay… zero. (motivation)
And we haven't even talked about the 3 Vs…
Vermin
Vagrants
Vandals

When any of these 3 discover that the house is vacant, they are happy to take residence. I regularly see raccoons, cats, possums and other wildlife. I have learned to watch where I step if you know what I mean. (motivation)
From time to time, I run into people living in these houses too. These are homeless people that would rather have a roof over their head, then sleep under a bridge so they bring their portable heaters, blankets and mattresses and make this their new home until someone kicks them out. Then, they find another one.
You have probably heard how common it is for foreclosure properties to get broken into. The thieves break into the house, steal the copper pipes, and anything else they find valuable. They do not discriminate… the same thing happens to privately owned vacant houses (motivation).
And to top it all off…
The sellers of these vacant houses are living somewhere else, which means they are paying double bills (motivation). They have a sense of urgency. They need to sell "like yesterday".
And the cycle continues. You'll never run out of vacant houses in your marketplace. This is an ongoing problem in the real estate economy, and because of it, you will never run out of motivated seller leads.
Now…
Imagine yourself owning a vacant house…
Are you excited and happy to have that vacant house?
Or are you motivated to get rid of it fast?
You are a motivated seller x 10!
You would pay someone to take this property off your hands.
And that is exactly what we are doing…
We are getting paid to solve someone's problem.
People are happy to part with their equity when….
They are too embarrassed to call a Realtor or…
They are in a pinch and need cash or…
They don't have enough cash to fix the place up or…
The house is disrupting their life or…
They don't live in the area, don't know anybody in the area and you happened to reach out to them…
The more of these factors that are going on, the more motivated they are. If you want to find motivated sellers now, this is the best way I know of.
How do you find these houses?
Drive around a neighborhood in your area that is HOT. Look for houses that are vacant and need a lot of work.
Pay a "Bird Dog" to find them for you.
Vacant House Data Feed – I have created an automated software solution that is the ultimate shortcut. Vacant houses can take a lot of time to find… but not with the Vacant House Data Feed. You can get instant access to all the vacant houses in your market (or nationwide) served up on a silver platter by clicking here.
And if you would like a free step-by-step blueprint on how to wholesale a house in under 30 days… click here to be taken to my blog post on flipping houses with no money.