Did you know…there are several ways to get your properties sold and reach investors in your area QUICKLY? (Hint: your real estate marketing may play a major role in this aspect)
One of my students recently contracted a single-family home in the Orlando, Florida area: a 2-bedroom, 2-bath, 1-car garage, with a heated swimming pool. He's offering the property at $99k cash as an investor special.
And, he's wondering – what's the BEST way to reach out to the investor community for a quick sale?
Read on as I share a few ideas about how to sell quickly and why you might have trouble selling.
Our Data Feeds Make It EASY…
First off – if you'd like to start building your list of cash-paying buyers with very little work on your part, I'd suggest you start looking through our program called the Cash Buyer Data Feed. It's a constantly updated resource that allows you to access the most active and recent cash buyers in your area and across the country so you can sell your properties at lightning speed. (Click here to see how many buyers are in your area for FREE!)
The Cash Buyer Data Feed includes 24/7 online access and provides you with a list of recent cash buyers anywhere in the United States. Plus, you never have to worry if the information is current or not because our system is updated on a WEEKLY basis!
Basically, we've made it easy to find real, active cash buyers. These are your most promising prospects.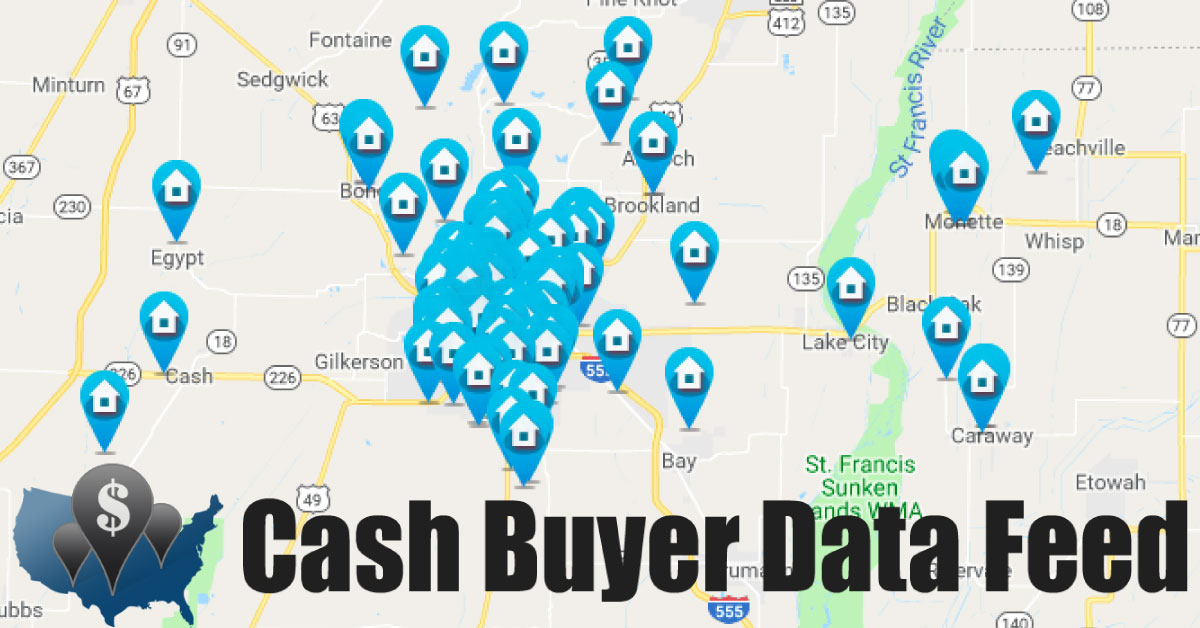 Find the Lurkers
Here's an idea that you probably haven't heard before or maybe even considered…
There may be other investors hanging around who are what we call lurking behind the scenes.
Let me explain…
Have you ever been a part of a discussion forum or even a webinar, and you're listening but you never ask a question? We have people like that all of the time on my webinar and training calls.
I can see who's on a webinar; I can see the names. I know who's asking questions and who isn't. We have very active participants, and then we have the lurkers.
This may sound negative, but it's not. It just means that that person chooses to watch and listen and that's how they learn, which is fine!
So, how do we reach those who are sitting quietly in the background…
You reach them by doing some really well-put-together real estate marketing. An advertising blitz, if you will.
This doesn't just mean digitally on the internet, but also real estate marketing in print. I suggest that you place an ad in your local weekly shopper paper (such as the Thrifty Nickel). And don't be cheap when you do this! Direct the reader to your motivated-buyer website, and make sure you have that property listed there.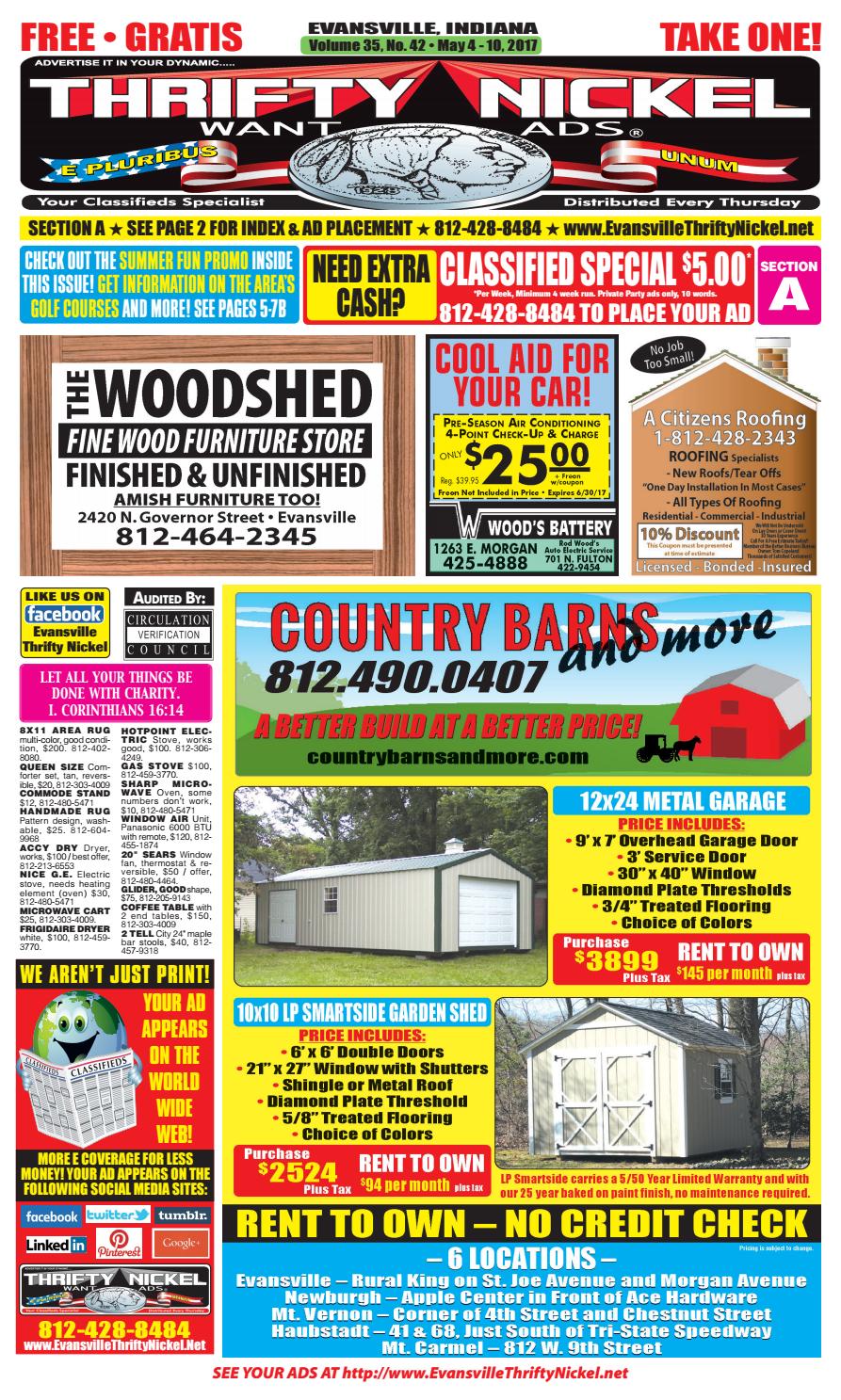 Try Thinking In Reverse
Another item in your marketing blitz should be "Reverse Bandit Signs". We've all heard of bandit signs being used to find motivated sellers, but that's not all their good for!
You can use bandit signs to find the buyers of your properties too! Simply tweak the message on your signs from a motivated seller focus to a cash buyer focus. Remember, you're writing the message from the perspective of the SELLER now, not the buyer, like this…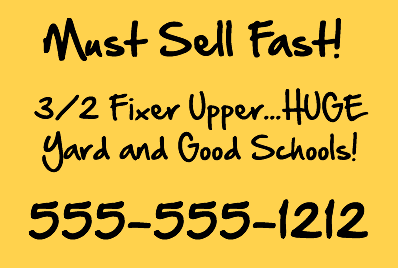 No Penny-Pinching
Look, plain and simple – this business is about real estate marketing.
Here's a problem I see all the time…
Some investors pinch pennies when it comes time to sell the house.
What the penny-pinching gets you is longer time on the market and higher holding costs.
You can either spend the money on real estate marketing or you can spend it on holding costs. One way or the other, it's going out the door.
Believe me, the advertising is always cheaper because holding costs can add up in a hurry. There's insurance, debt service, property taxes, utilities, and on and on…
You've got to get rid of this property to avoid those costs! Spend the money on real estate marketing and get it gone quicker and for less money than the holding costs.
The 2 Reasons It's NOT Selling
Keep in mind that if you're having trouble selling a property, there are only 2 reasons why it won't sell:
1) It's not priced right.
2) Your real estate marketing stinks.
And by the way, this is how bargains can be found by investors like us. If the seller is not doing a good job of marketing, they get eaten up by holding costs and they eventually find themselves needing to dump the house to solve their problem.
That's when we come in and snatch it up at a great price!
This can even happen with Realtors when they're lousy at real estate marketing. Their clients wind up having to sell for less than they originally intended just to get the thing gone.
Other Options
Make sure you consider other exit strategies…
Maybe his particular deal could even be a good fit for you to do the rehab and sell it to an owner occupant with a traditional mortgage.
Or maybe you sell on a lease option.
I always keep a "plan B" exit strategy in mind.
So you see, there are other options as well as searching for a cash buyer and selling wholesale.
Your Favorite Way to Reach Buyers
What real estate marketing strategies have worked for you when making quick sales? Leave your comments below, I love hearing from you!
Regards,
Cameron Dunlap