I love wholesaling houses.
No matter where you are, no matter how much or little money you have, no matter how much or little experience you have… wholesaling is a great first or next step and one of the fastest ways to make money in real estate.
Why?
Wholesaling is the foundation of a successful career in Real Estate investing:
Wholesalers have access to the VERY best deals in their market.
Wholesalers get properties so cheap, it's hard to make a mistake.
Wholesalers are in EXTREMELY high demand to fix & flip investors because they simplify their lives… which proves how valuable wholesaling is.
Even if your ultimate goal is to fix & flip, buy & hold, lease-option, or do commercial properties… you should still approach every deal like a wholesaler so that, if you choose to, you can cherry-pick deals for your other strategies.
And if you are experienced and already have a nice investing business going… you should add wholesaling to your toolbox. Not only will your margins improve, the frequency of deals you can do, will improve too.
What we're going to discuss in this blog post is why I love vacant houses so much, especially when we're wholesaling and how to simplify, automate and scale the business. To begin with, the primary tool I use to find vacant houses across the country so I can flip cheap houses for profit.
Introducing…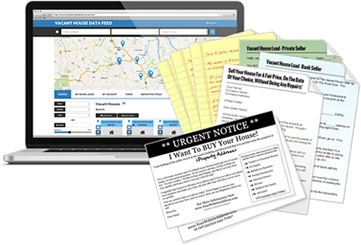 What is the Vacant House Data Feed?
It's a software program I've developed that hands potential motivated seller leads to you on a silver platter.
The biggest reason investors don't hunt down vacant houses is because of the time it takes. This software has reduced that amount of time by over 90%.
Ordinarily, you would have to find a hot neighborhood, drive up and down every street in that neighborhood, look for houses that are vacant, add vacant house leads to your database, manage your database, and then send personalized letters to the owners.
Not anymore!
Not with Vacant House Data Feed!
All you do now is log-in, tell the system what area you want leads for, and then send a mailing or If there is a phone number available call them with a couple clicks of your mouse.
This data is updated on a regular basis, so you never run out of fresh leads and your marketing dollars are spent wisely.
This is one major reason I love vacant houses!
There is an endless supply of leads.
How to Use Vacant House Data Feed
First of all, you'll need to get an account setup. The GOOD NEWS is you can take a risk-free test-drive to get started today.
Once inside, enter your area…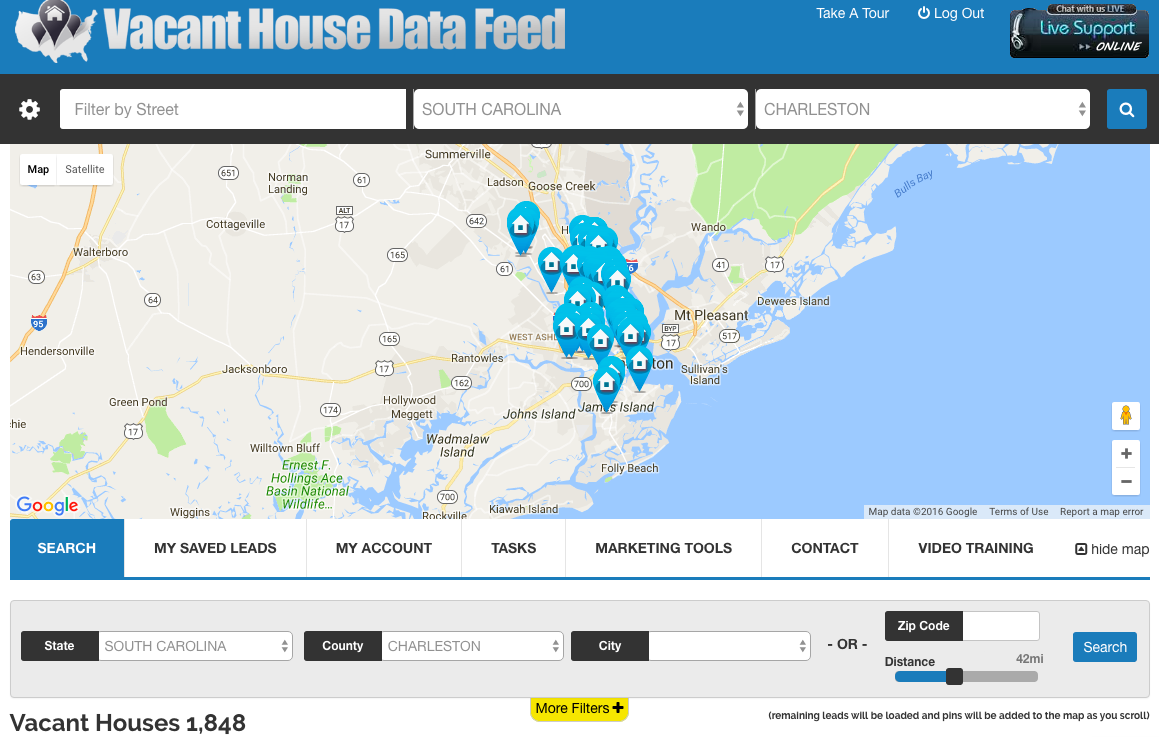 Second, filter out any leads you are not interested in.
I love when the mailing address matches the address of the vacant house because this represents a dead-end for my competitors… so I will tell the system that I want "matching addresses"…

After I hit "Search", I will see a list of leads. I select one to get more information…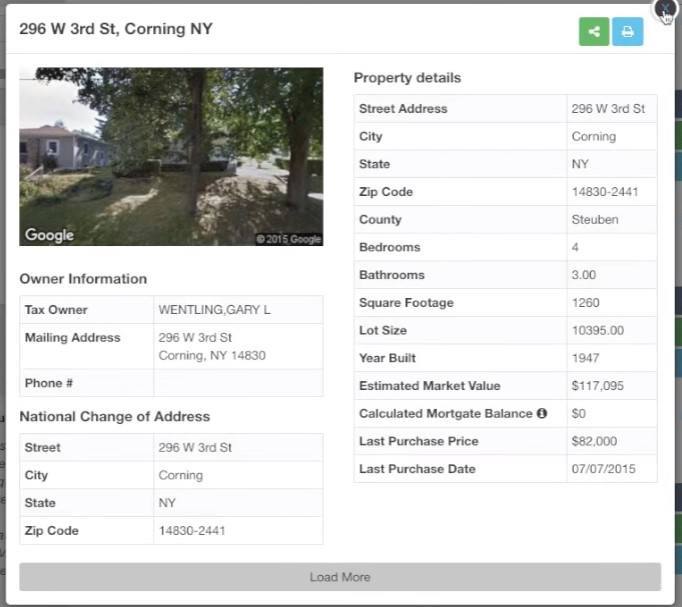 Now I can add any leads that pass my "sniff test" into "My Saved Leads"…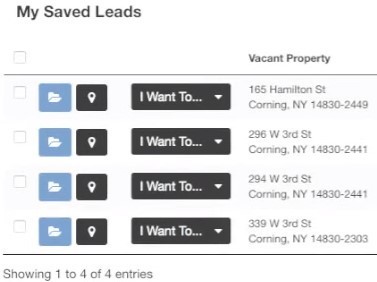 After you have built a list of leads, you are ready to send a postcard to the owner, or send them to your birddog to go drive by, or drive by them yourself.
Let's say that you would like more leads…
You can look for vacant houses where the owner lives "Out of State":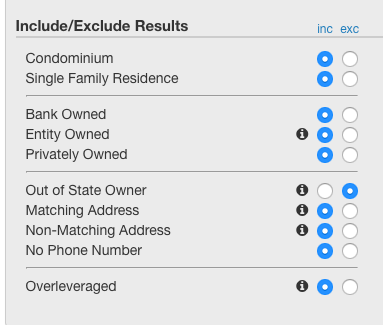 You can look for vacant houses where the owner is "Over-leveraged" (if you want to work on short sale deals):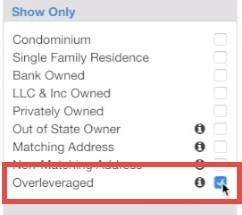 You can even sort by "equity" so you can look for "free & clear" deals or have enough equity to sell to you without bringing cash to closing: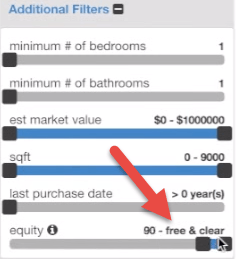 Maybe you are asking… "How do you get all this info Cam? And how do you know it is correct?"
We've developed a highly tuned proprietary algorithm that combs through millions of records that come from multiple data sources, which allows us to identify verified vacant houses nationwide.
The challenge is that this information is not easy to get, access costs us a small fortune and it takes an army of programming geniuses to maintain it. But that's ok because by allowing my clients to access it, we're able to spread the cost out and keep it ridiculously inexpensive compared to the value it adds to your business.
We use this information in conjunction with our proprietary algorithm to:
Determine that a house is vacant
Calculate the likely value of the property
Calculate an approximate mortgage balance – where mortgage info is reported
Subtract the mortgage balance from the value
Determine how much equity the property is likely to have
Display the property type
Find out if the property is owned privately or corporately
See the owner's mailing address
And MUCH, MUCH more!
Once you are finished using the Vacant House Data Feed to sift & sort through leads, you are ready to drive by them (or have a birddog drive by them for you) … or if you would prefer, you could just send a mailer.
Pro Tip: Remember… vacancy is fluid. A property that was vacant yesterday could be filled today. And a property that is occupied today, could go vacant tomorrow. Keep this in mind when you're looking at properties that you found in the system.
What to Look for When Driving for Dollars
Driving for dollars means that you (or your birddog) are driving around looking for houses that are vacant and in need of repair. When you use the Vacant House Data Feed, 80% of this is already done.
When you already know the addresses of the vacant houses, it is no longer a scavenger hunt, but more like a mapped out treasure route.
You know exactly where to go.
If you do not elect to use the Vacant House Data Feed, you will need to develop the eagle-like skill of spotting vacant houses.
If you want to go the scavenger hunt way, here is what to look for:
Vacancy stickers and foreclosure or condemned notices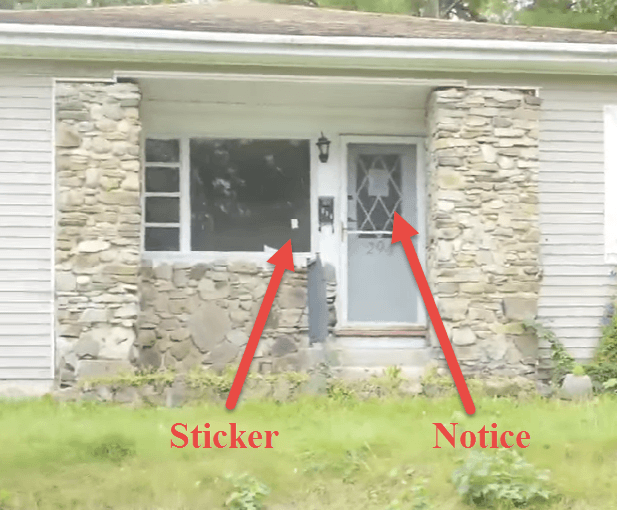 Old newspapers, phone books, or other periodicals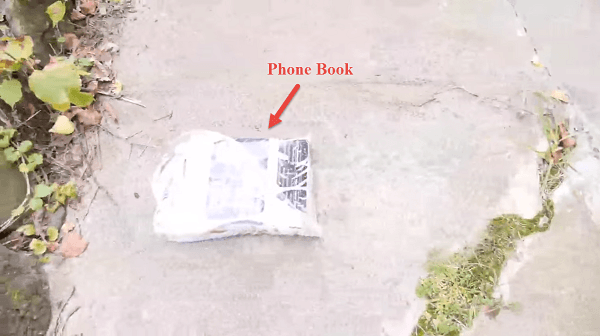 No curtains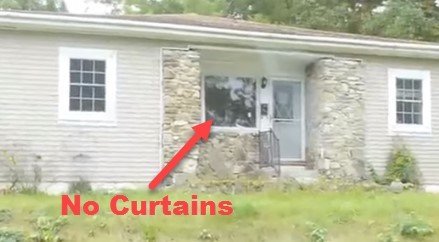 Grass grown high or dead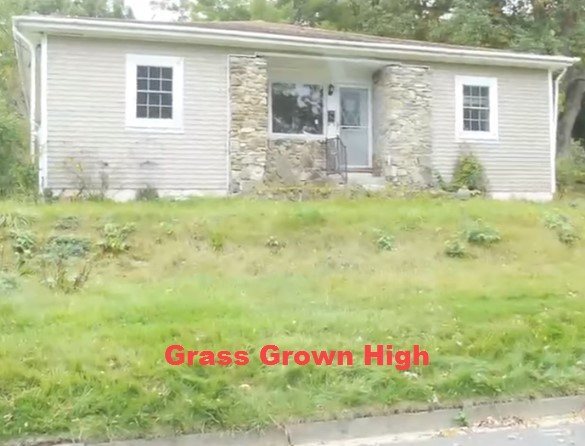 Others
Electric meter missing
Mail falling out of the mailbox
Doors/windows open or broken
No tire tracks in the snow (northern markets)
There are other nuances you will learn about as well…
For example, during the Halloween season… the neighbors will have decorations up, but a vacant house may not.
Or, a house may have a light on because there is a vagrant living there… but that only makes the owner even more motivated to sell to you for a discount.
Pro Tip: Don't let a car in the driveway fool you. Many times the neighbors will park their cars in a vacant property's driveway. Look quickly for signs that a house is vacant and don't pay much attention to vehicles in the driveway.
Now that you know what to look for… you can get started right now.
If you already know a hot "starter" neighborhood near you, print out some Google maps, and head out.
If you want to save time and gas money, grab your membership to Vacant House Data Feed right now before you head out.
You will get access to:
Off-market leads that are not on the MLS
High equity deals so you know that you are not wasting your marketing dollars
Out of state owners which means the sellers are even more motivated
Built-in mail manager & marketing templates to keep track of lots of motivated sellers in one place
The industry's best customer support so you never feel alone in this process
And MUCH more!
When you subscribe to Vacant House Data Feed, you get instant access to the best of the best motivated seller information available in the industry. That is why I say that this is the fastest way I know to do a deal.
You can join now, get instant access to vacant house leads in your area, and within 1 hour from right now, you can be out driving by houses to confirm they are vacant, and be on the phone calling motivated sellers within a few hours. If you prefer to send mailers… you will get the owner's mailing address inside the Vacant House Data Feed and you can have them in today or tomorrow's outgoing mail.
"Cam, I found a good deal…now what?"
 Great question!
If you've started to get responses and need to know how to get that motivated seller to the closing table then check out my complete guide on flipping a house with no money, credit, or experience (in 30 days or less).