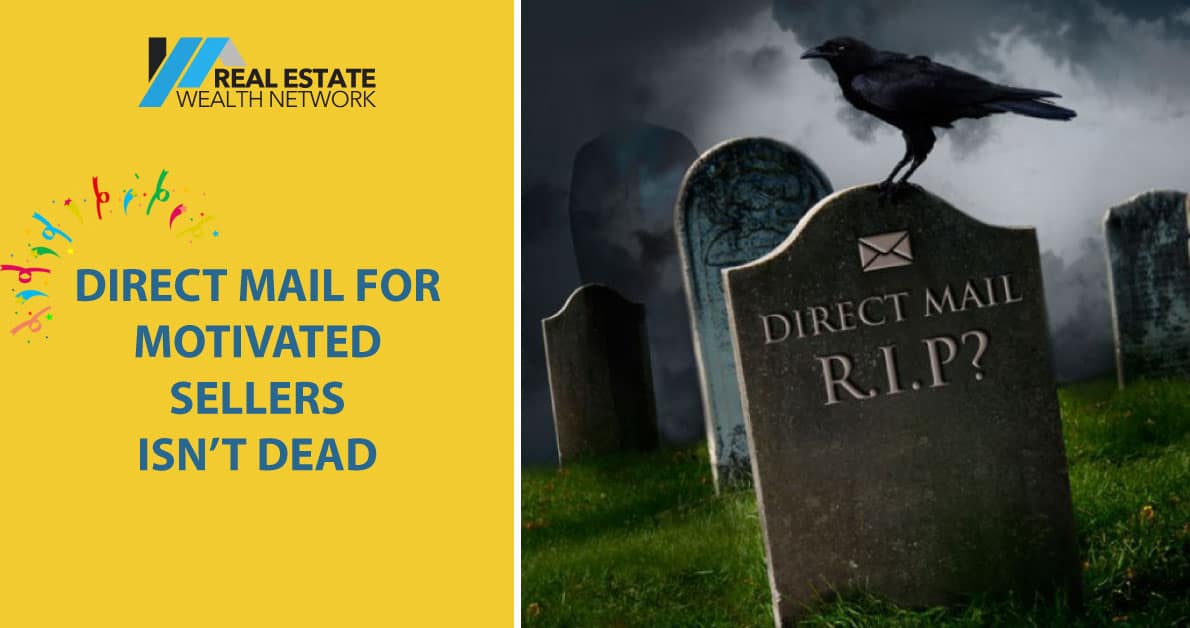 Your real estate success starts with the seller (one who is motivated and willing to sell at a bargain price) and one of the best ways to find these motivated sellers is by sending direct mail to vacant property owners.
One thing's for sure, if you aren't talking to motivated sellers, you won't be in this business for very long!
Now you may hear people say direct mail is dead. They may say it's a waste of time, money, resources… and to that, I say, heck no! Direct mail is alive and well, my friends.
It works.
Think about your email inbox for a moment. Is it constantly being filled with junk you're not interested in or are those you are interested in, pounding you with way too much email? Why "snail mail" works is because most marketing messages have moved to email leaving your postal mail box with a whole lot less in it than in the past. Ok, maybe not around the holidays… you know what I mean.
The thing to keep in mind is R.O.I. That's return on investment. We're looking for the highest R.O.I. we can get when it comes to communicating with motivated sellers.
With the right list and the right type of campaign – yellow letters, postcards, etc. – you will get a return on your investment. Oftentimes, just ONE deal makes it worth it. Heck, one good deal could cover your marketing expenses for a LONG time!
Now if you're going to use direct mail, you've got to be smart about it because it's expensive. So we need to be careful to match our message with the recipient. That's a MUST. Then, to get even better results, you should track your campaigns so you know the mail pieces and lists that are giving you the best results, and then you replicate those over and over again.
…consistency is the key.
If you decide to do direct mail, you're going to need hone in on a winner of a campaign and then keep doing it again and again so your pipeline of prospects doesn't dry up. I've seen way too many people make the mistake of waiting too long between campaigns or thinking that because they got a lead or two, they can stop or take a break.
No, sir (Or ma'am). Consistent marketing is the way to go!
You Got a Bite, Now What?
So, let's say you've done a direct mail campaign. You waited. And, maybe you waited some more (but in the meantime you sent out other mail campaigns, right?!). And finally, you got a response. Hooray!
Reeling them in is the ultimate goal, yes, but you definitely need to understand how to handle the deal once it falls in your lap. And for many of us, that process can be a real head scratcher.
But it doesn't have to be! Check out this interesting example…
I recently heard from student who received a response from her vacant house mail campaign – a campaign from which she sends direct mail straight from the in-application mailing system within the Vacant House Data Feed – (click here to try this powerful system out for yourself – it's risk-free!)
After the call came in, she did some research on the particular property on the county website and found out that the owner was behind on the taxes and the property was on the list to be sold by the county at auction.
The total in back taxes – $638. Yep, that's it. Just $638.
So, the house was scheduled to be sold at auction, but I explained to the investor that she would most likely NOT be able to buy the house at auction for a bargain price. If there was no other bidder, she might get lucky. But generally speaking, the chances of her buying for the low, low, crazy low price of $638, just what is owed, was slim to none.
Here's the thing… because this owner contacted the investor directly – in response to her letter, I didn't think it would even make it to the auction. That is, if the seller and investor could agree on a price the property could be pulled from the auction "docket". And remember, obviously the seller was motivated, which is why he responded to the mail piece…
Turns out this property belonged to the seller's mother, who had recently passed away and the son wanted to be done with it.
So, how much should the investor offer?
Well, let's look at two scenarios… if it were to go to auction vs. working directly with the seller.
You Can Only Pay What You Can Pay
To figure out the offer, the investor would have to take into consideration whatever the mortgage balance is (if there is one) plus the back taxes.
If there's a big mortgage and it just doesn't make financial sense to pay that price for the property – then it would be best to let it go to auction, where she'd at least have a shot at buying it at a significant discount and the mortgage would be wiped out completely.
If she's the winning bidder at the auction, she could simply purchase the owner's right of redemption (if there is one) for say $1,000, and then she wouldn't have to worry about the seller redeeming it.
Side Note: The right of redemption is the right of an owner (whose property has been foreclosed on and sold) to reclaim that property if they are able to come up with the money to repay the amount of the debt.
So, that's the auction route. Here's another option…
If there's no mortgage (meaning the property was owned free and clear) or it's a very low mortgage, run the numbers to see if it makes sense to scoop it up before it goes to auction, like I mentioned above. (And it could easily be worked out that the back taxes would be paid by the seller from the proceeds of the sale.) I've done this numerous times over the years by the way.
To do this, pull comps and calculate the after repair value (ARV), assuming the property needs repairs.
Depending on how the investor intends to sell, do the math two ways:
Go for .70¢ on the dollar minus repairs to get close to a price that takes into account that the investor would do the repairs herself.
But if she plans to wholesale to the property to another investor who will do the rehabbing, go with .65¢ on the dollar minus repairs (so that end buyer investor can turn around and sell it at .70¢ on the dollar minus repairs to make a little profit in between).
So the question of how much to offer is easy once you do the math.
Remember, at the end of the day, you can only pay what you can pay, so work the numbers – and do what works for you.
This is just one tiny example of how direct mail for motivated sellers really works when you are consistent with it. If you send out one batch of mailers and don't get a response, then because of that you decide direct mail doesn't work and discontinue, you will be right, it doesn't work – for you. Be consistent and you'll see that it does work… like a charm!
Talk to Me
Leave a comment below if you have thoughts or questions about using direct mail for motivated sellers or closing vacant house deals. I personally respond to any and all comments!
Regards,
Cameron Dunlap