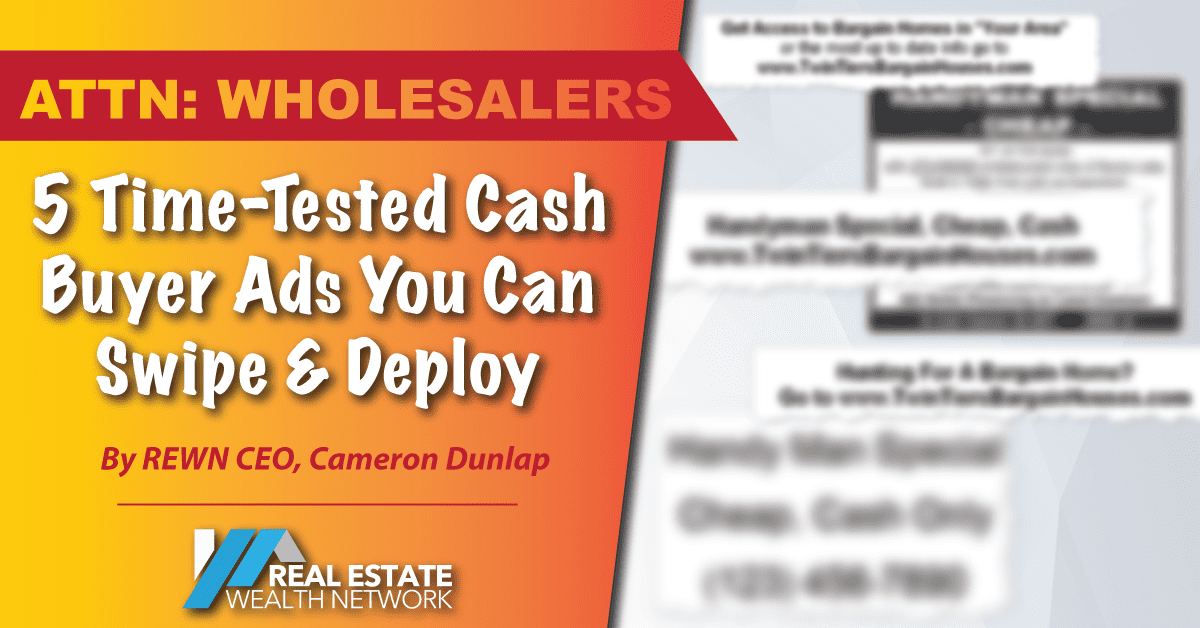 If you wholesale real estate, do NOT overlook the importance of a good cash buyer ad.
I talk a lot about cash buyers being a key ingredient to the winning cocktail for any real estate investor.
Even if you're not focusing on wholesaling exclusively, you're going to wholesale deals from time to time… and having access to and having your finger on the pulse of cash buyers is an important monetization strategy.
Cash Buyer Resources
One of my top resources for that includes the Cash Buyer Data Feed and Investor Buyer Data Feed that I developed in-house and actively use.
But, over and above those, even if you're not a subscriber to any investor buyer data feed, I want to share 5 successful ads that I've placed on Craigslist and in newspapers.
These are ad templates that you can swipe and deploy — they're time tested and proven to work for me in my real estate investing business. I still use them today, even though I also use my Data Feeds… see, the Buyer Data Feed is the easy button, if you will, but not everybody has access to that.
So, here are my 5 successful ads that will absolutely get the attention of cash buyers in your target market.
And, I recommend that you keep these ads posted on an ongoing basis or, at the very least, repost from time to time.
Use These Cash Buyer Ads To Bring In Top Dollar
Cash Buyer Ad #1
Cash Buyer Ad #2
Cash Buyer Ad #3
Cash Buyer Ad #4
Cash Buyer Ad #5
This newspaper ad has worked for me for multiple decades now!
Voila! Swipe and deploy!
Your Take
Let me know your experience with cash buyer ads! If you've used any of the ads I've posted here, let me know how it went! I love reading your comments and I will personally respond.
Regards,
Cameron Dunlap